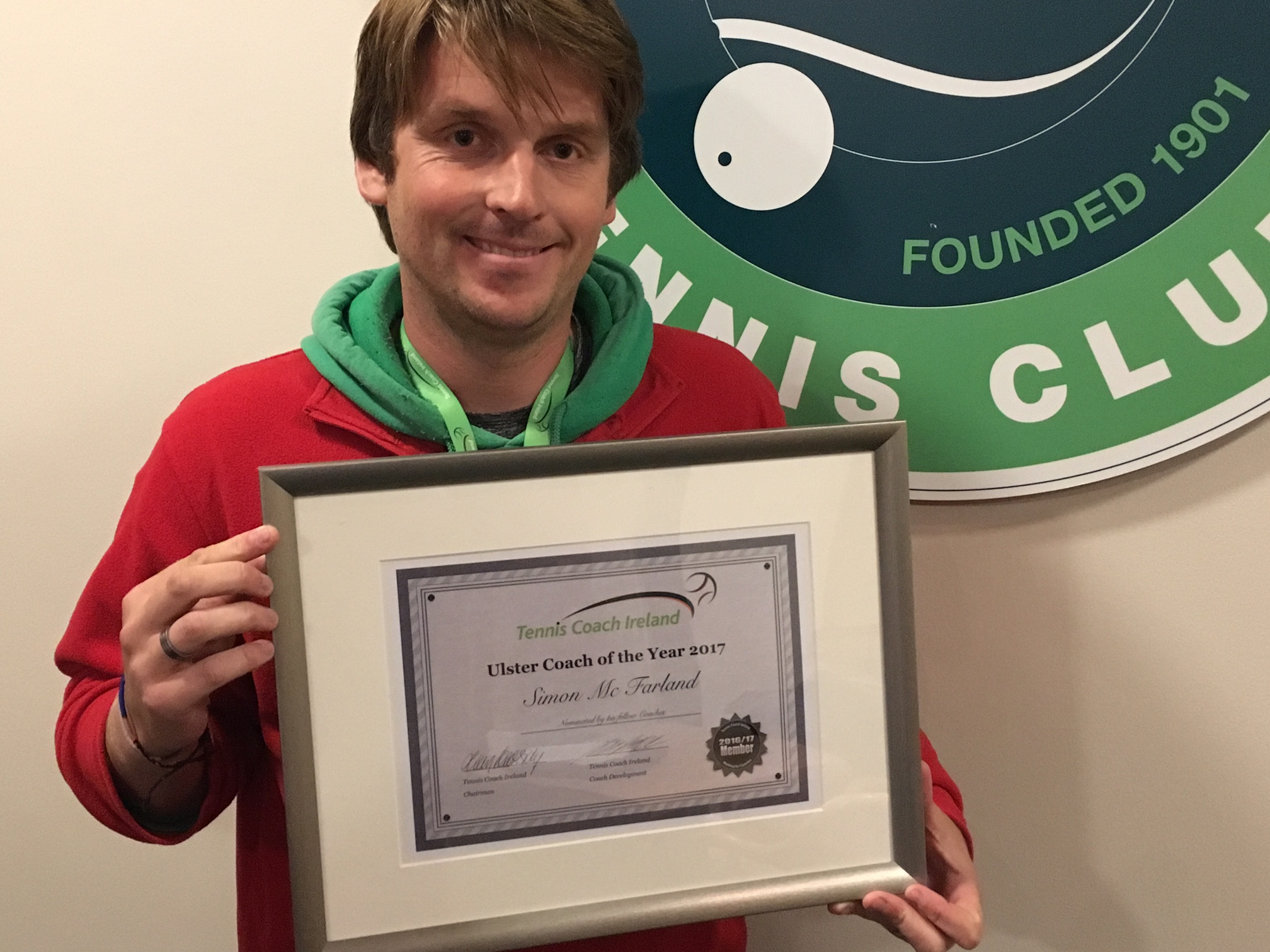 Simon McFarland
Racquets Director
Biography
Simon is from Bangor but grew up in Belfast going to Methody – Simon won the Tennis Schools Cup for Methody in his final year and then went to University in Lancaster studying Sports Development and Sports Coaching. His favourite tennis players are Andy Murray and Maria Sharapova.
Simon loves coaching Under 10s that are aiming to become serious tennis players as well as beginner / improving adults who are keen to learn about the game. Aims to make sessions fun, energetic and challenging, coaching anyone who wants to improve their Tennis and all round fitness.
Tournament Experience
Simon has won a total of 14 Junior Ulster Titles and 3 Senior Titles around the Ulster circuit. Simon represented Ulster at Under 18 Level and County Down at Senior Level.
Coaching Experience
Simon has coached  at Ward Park, Donaghadee and Lurgan Tennis Clubs, coaching players to Ulster and Irish level as well as developing the Junior sections and developing clubs into both a recreational place for beginner tennis and also a performance base for developing players to Ulster standard. Simon is also the South East representative for Junior Development in Ulster Tennis and helps run a number of Junior Tournaments around Ulster. Simon has also coached the Ulster Squads at U8, U9, U10 and U11.
Simon joined the club in December 2009 and is working with both juniors and seniors in the club as well as Saturday afternoon Club Play and Thursday Club Night. Simon is also deeply involved in the development of the Junior and Senior Club and making Windsor the best squash and tennis club in Ulster. More recently Simon has gained his Squash coaching qualifications and is delivering squash clincs to juniors and teenagers as the game enjoys a re-surgence.
Qualifications
Private Coaching
Simon is available for private coaching 6 days a week.
Private rates
Single: £20 per hour for first lesson, £25 after.
Groups: up to 2, 4 & 6 : £25 per hour
Contact Simon
Contact Simon on:
mobile: 0785 1282 210
email:  simon@windsortennis.co.uk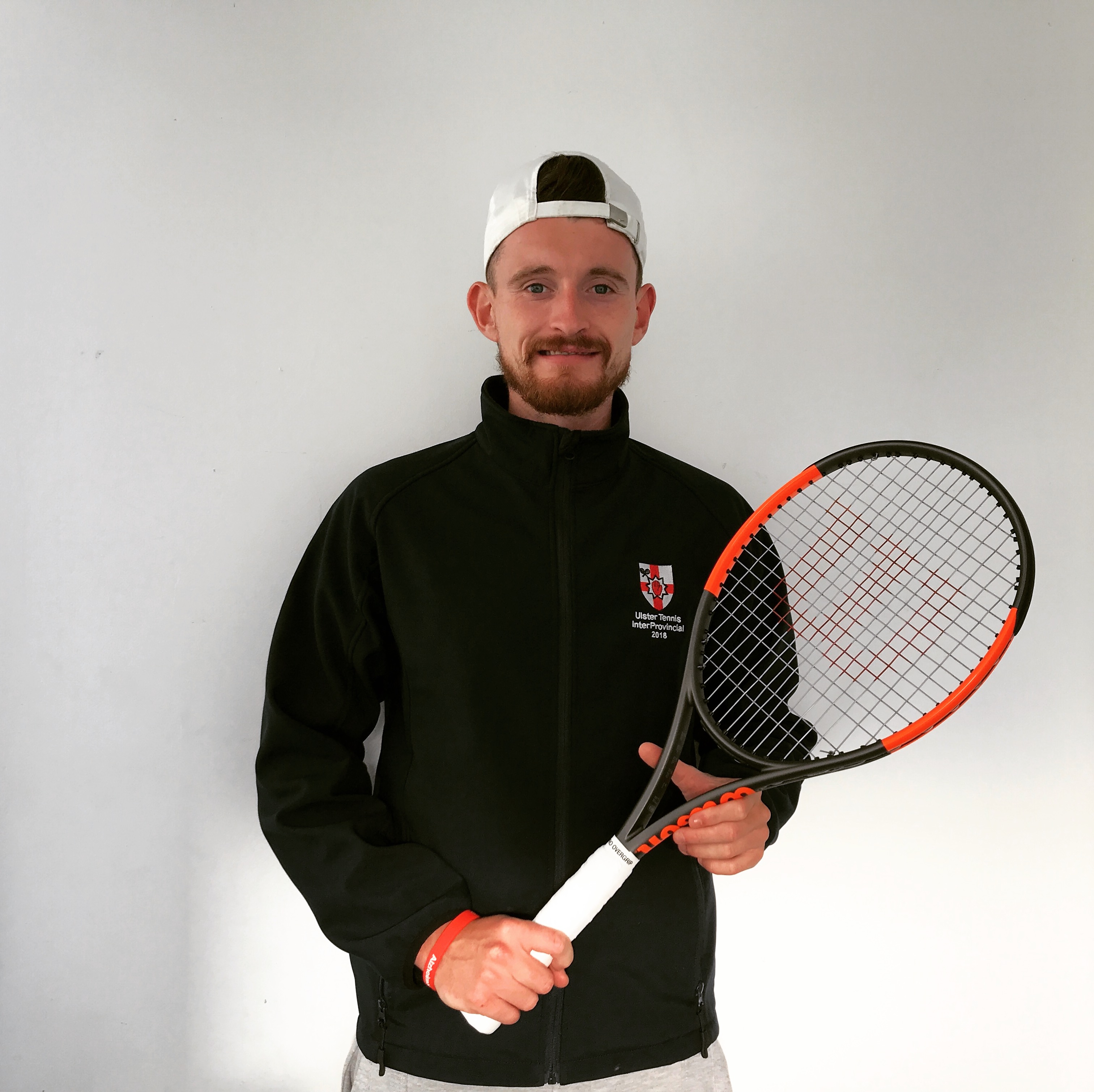 Michael Blease
Performance Coach
Biography
 Michael grew up in Belfast and started playing tennis at 14, this was considered late for someone to start playing and competing in Ulster tournaments. Michael played his tennis at CIYMS Tennis Club where he won many junior and senior league titles. Michael attended Sullivan Upper school where he won two Ulster Schools Tennis cups. Michael is one of the only players to have played for Ulster at Senior level who did not play for ulster at junior level.  Michael has 10 years' experience in coaching tennis.
Tournament Experience
Michael has competed in Ulster tournaments from the age of 14, winning 5 junior  titles and 10 Ulster Senior titles. Michael represented County Down at junior and senior levels and also represented Ulster at the Senior Interprovincial Championships in 2016 and 2017. Michael has also Captained the Ulster under 14 team and the Ulster under 18 team at the Junior Interprovincals.
Coaching Experience
Tennis Fundamentals Coach 2007 – 2013
Wallace Park Head Club Coach 2012 – 2013
Hillsborough Club Coach 2013 – 2014
CIYMS Club Coach 2014 – 2015
Queens University Tennis Club Coach 2015 – Present
UTA– Ulster Tennis Academy College Squad Coach 2015 – Present
UTA – Ulster Tennis Academy Futures (under 10) Squad coach
UTA – Ulster Tennis Academy Under 12 Performance Squad lead coach
Michael has coached children of all standards and adults from recreational level up to Ulster and Irish competition level. Michael also coaches the Ulster Tennis College squad which aims to help juniors who wish to go away to US College to play tennis.
Qualifications
Michael is a fully qualified Tennis Ireland Level 2 coach.
Michael was awarded the Ulster Tennis Academy Coach of the Year in 2017.
Private Coaching
Michael is available for private coaching 6 days a week.
Private rates:
Single: £20 per hour for first lesson, £25 after.
Contact Michael
Contact Michael on :
mobile: 0754 5846 416
email: michael@windsortennis.co.uk