Bridge at Windsor!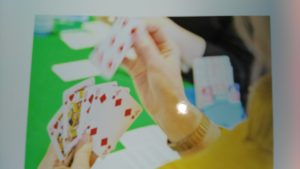 Windsor Lawn Tennis Bridge Section was originally formed in late 2013.
Our first Annual Meeting was held on 17th October 2016 and it was then that our very first Bridge Committee was formed. The current members of the Committee are Angela Currie (Chair), Brian Moore (Secretary), Alice Clark (Treasurer) & Cathy Fay (Assist. Treasurer).
Brian Moore took up the role of Secretary earlier this year. He is a U3A Bridge Convenor and also holds the position of Chairman at St Joseph's Bridge Club. Brian, with his playing partner Jim McDonnell came first in the last Sims Pairs competition, and first in a recent Interclub.
These competitions are at national level and bring recognition for Windsor as a serious contender on this stage. Brian also manages our Bridgewebs site where all news, including bridge results, social events, competitions or otherwise is posted.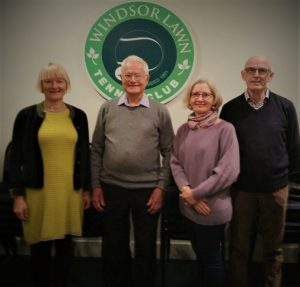 Committee members L to R – Alice Clark (Treasurer), David Clement (Training & Development), Angela Currie (Chair) and Brian Moore (Secretary)
David Clement who was our previous Club Secretary, and who has brought Bridge at Windsor to its current fine position has now embraced the role of 'Training & Development.' David is currently running Beginners Classes and he also offers Revision Classes on an individual basis. If interested please contact David at: david.clmnt@gmail.com.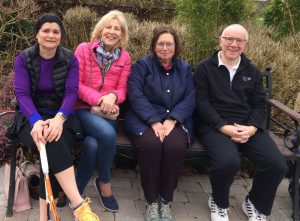 Forthcoming Events
Bridge is not just about being competitive. It is also meant to be social and fun! Next year sees in our third successive annual outing. Our Slieve Russell trip was such a resounding success earlier this year that we have booked the same venue for May 2019. See Bridgewebs for further information.
Membership
Membership of our bridge section is open to all. It is not necessary to be a member of the tennis club.
We currently run two bridge evenings a week:
Monday 7.30pm to 10.30pm; and
Thursday 7.30pm to 10.00pm.
If you are interested in bridge, please contact Reception at Windsor by email on reception@windsortennis.co.uk