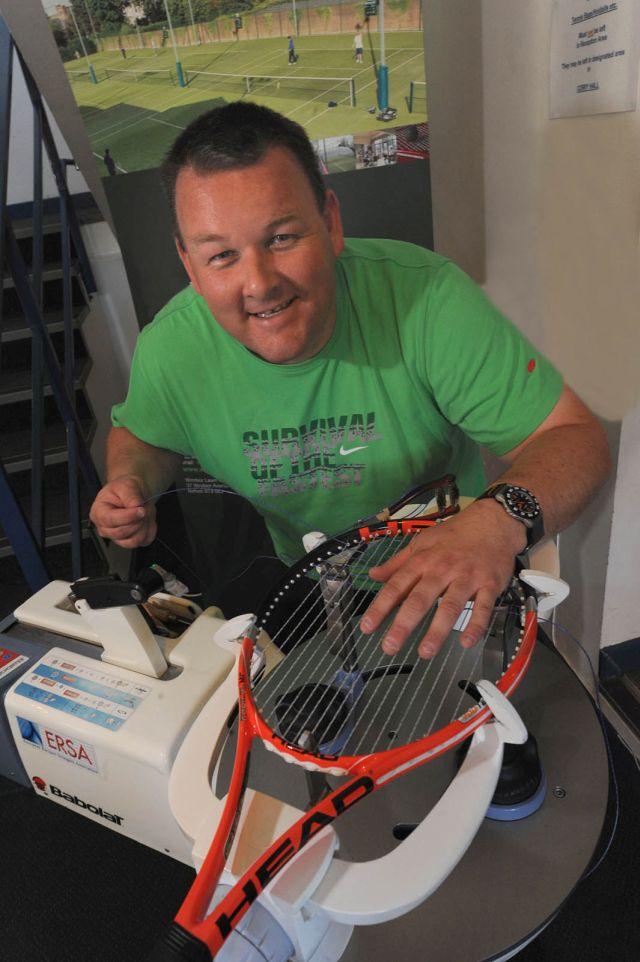 Roger Henry
Professional Racquet Stringer & Windsor Tennis Club Member, Roger Henry has linked up with the club to offer a full Professional Racquet Stringing Service to all members. Roger is a member of the European Racquet Stringers Association, through which he qualified as a Master Racquet Technician; as an MRT, this qualifies him to string at any tournament throughout the world.
Roger has been a member of the Official Stringing Team at the Championships, Wimbledon and has strung at the tournament for a number of years.
In December 2010, Roger was also selected to join the prestigious Babolat Stringing Team, who secured a 3 year contract to provide the Official Stringing Service at LTA events throughout Britain. They were also been awarded the Stringing Contract for the French Open.
During his time stringing, Roger has had the privilege to meet and work with some of the best players in the world. These include Grand Slam Champions (past, present & future) Roger Federer, the Williams Sisters, Rafael Nadal, Andy Murray, Pat Cash, John McEnroe & Bjorn Borg, to name but a few.
Roger is also currently the official stringer to the Ireland Davis Cup team.
WHAT DOES THE SERVICE PROVIDE?
Stringing Service
Restringing of your racquet with the most appropriate strings for your game. There are many different types and brands of strings, these may play differently and so getting a string which is best for your own play is very important.
Free Tension Test
The tension in your strings can be quickly tested to see if your strings have lost tension or even if they should be strung either looser or tighter.
Racquet Advice
Each racquet is individual, and will differ in terms of weight, stiffness and feel. Having the most suitable racquet will help your game and Roger will be happy to provide any advice.
String Advice
There are many different brands and types of strings, these have different characteristics and some will suit your style of play while others may not. Finding the right type of string will help your own game to improve.
Grips and Overgrips
There are different types of grips which feel different and again different players will have different preferences. Some players like to play with overgrips for example, while others do not. Grip size is also important to getting the most from your game, and Roger can advise on the most appropriate size of grip for you.
To ensure that players receive a quality service, Roger has set up a "state of the art" Babolat Stringing Machine onsite in the club and will be available on demand.
A racquet restring is likened to having your car serviced…..regular servicing maintains the performance.
Roger's rule of thumb for restringing: If you play once a week restring once a year – twice a week restring every 6 months. Failure to do so can not only result in the decrease in performance but can also lead to injuries (eg tennis elbow, shoulder, arm).