Windsor Marathon Team
Folks, It's time to look ahead and plan for providing club representation at the 2014 Belfast City Marathon Team Relay event that will take place on Monday 5th May 2014.
In the previous two years Windsor Tennis Club Belfast has provided One (5 person) relay team ….. this year I would like to field Two Windsor Marathon Teams, the WHITE team and GREEN team.
This is to provide healthy competition, not just against other clubs/associations but within the competitive spirit that I know burns deep within the Windsor fitness community.
In 2013 the Relay team produced a respectable Time of 3:39:40 which gave us an overall position of 145th out of 1935 teams …. not bad at all.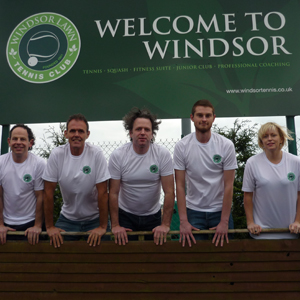 But I feel we can do better!
I would like to field TWO STRONG 5-Person teams to represent the club this year, so if you are a regular runner and/or have a decent fitness level please step up for the club, it would be great to hear from you. It's a fun day and you get a great sense of achievement once it's over.
The link below gives you an idea of the respective Five legs and route etc.
http://www.belfastcitymarathon.com/about/Team-Relay-Event 
 Contact Marc
Interested parties can contact me via the details below.
Marc Howland
Personal Trainer & Sports' Injury Therapist
@ Windsor Lawn Tennis Club
Cell 07791094515
marchowland@msn.com