Windsor Golfing Heroes 2012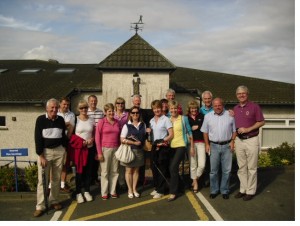 Our "Windsor Golfing Heroes 2012" golf outing took place at Helens Bay Golf Club Sept 2, and we had 18 members out on the course, who had all travelled down from Belfast. The winners were Carol Taylor for the ladies, and David Frazer for the men.
A special mention needs to be made for the help given by former Club Chairman George Hewitt. In addition I would like to thank Peter Clark for his kindness and generosity, and to Peter and Julieann for playing with us in the outing.
Windsor  Golfing Heroes 2012 – see them on Windsor Flickr account
We enjoyed great weather, compare our photos from this year to last year on Flickr!
Our thanks must also be extended to the staff at Helens Bay who made us feel very welcome. Additionally the presentation of the course following so much rain of late was remarkable.
To all those who participated in making it a good days fun, thank you, see you in the Spring!!