Windsor Defibrilator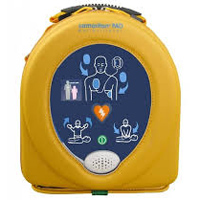 Members will be interested to know that Windsor takes your health seriously! New Defibrilator bought for the club.
We have been running a campaign to raise funds for the purchase of a Windsor defibrilator should the unfortunate circumstance arise when a member or visitor experiences a sudden cardiac arrest. You'll be glad to hear that your generosity has meant that we have been able to hit the target –  😛
We have now purchased the defibrilator. Interestingly, this device is manufactured (Heartsine) in Belfast and we believe we are the only tennis club in Belfast to  own such a machine. Following the fundraising campaign, the Windsor Defibrillator has been purchased and installed on the wall behind the reception desk. All staff (reception, tennis coaches and Marc Howland) have completed defibrillator training with Heartsine.   Council would also like to extend some basic First Aid and  defibrillator training  over the coming months to tie in with other events we are running so please come down and support your Club as its in everyone's interests.
Please note if there is an emergency situation and a member of staff is not available, please phone 999 immediately, giving details of the emergency. It is important to inform the operator that a defibrillator is available on the premises.
And lastly, many thanks to new member Rebecca Di Maio for her generous assistance with the training for the new defibrilator.