Windsor Court Booker Changes – proposed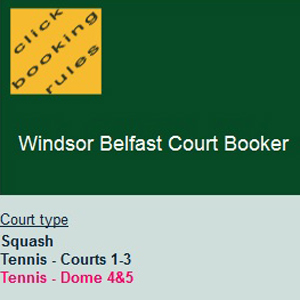 Following the recent Members Evening at the club, it has been suggested that we make a minor change to the Windsor Court Booker – ie give permissions to book 8 days ahead, for Full Members only (this includes Full, Family and Joint). Currently it is possible for every member to book 7 days ahead.
Click here for the full WCB booking rules
Before making this change The Council are actively seeking suggestions from all our members to see if there are any other amendments that members would like to see implemented in the Windsor Court Booker.
All suggestions gratefully received!

Please send your ideas/thoughts/suggestions to racqueteditor@windsortennis.co.uk