Windsor B v Rosario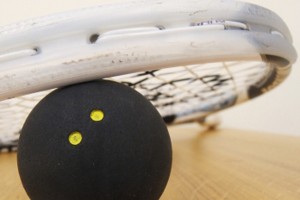 This week was away to Rosario – sadly the RVH Belfast is gone as a venue due to declining numbers within the Sports and Social Club, so Rosario are playing out of Harlequins.
Mike v Kieran Doherty
Kieran is a solid player but I always had Mike the favourite in this one. It was a fairly see-saw match as both players covered the court well but Mike always had the edge despite dropping the second game. After going 2-1 up Mike pulled away in the fourth and completed the win 3-1.
Me v John Murray
Rumours of John's defection to Boat Club were unsubstantiated, and he is always a very difficult opponent due to the sheer power he generates on the ball. In the first game I played well to keep it tight and took it as John tinned a few towards the end. However from then on it was an uphill struggle as John got his radar going and the nicks started flying. I found it hard to generate any pace due to the dead nature of the court, as balls which would usually reach the back wall ended up half-court and John capitalized. 3-1 was a bit disappointing after the first set but a point nonetheless.
Duncan v Paddy McLaughlin
Paddy is a shotmaker and this match was expected to come down to whether Duncan could make it a match of longer rallies as on fitness he would have a clear edge. However Paddy seems to have shed a few pounds and was moving well enough, giving him a bit more time to play his drops and lobs. Duncan might have taken the first but was unlucky to lose it and Paddy did enough to keep ahead from then on to win the next two. 3-0 Rosario.
Ben v Dave Jordan
Dave is a very solid player and dogged competitor, but he wasn't in the match in the first two games as Ben dominated with tight drops and changes of direction which kept Dave guessing. Dave fought back to take the third as the rallies got a bit longer, but Ben got a good start in the fourth to get ahead and was never threatened as he took it 3-1. Very good win over an experienced opponent.
A draw in the end, 8-7 on points to Rosario.
The bad news filtering back from those who played earlier was that the water in the showers was barely above cold, and our worst fears were realized as those showering after the last match were treated to freezing cold water – this did not go down well at all! Come back the RVH, all is forgiven – it may have been a bit tatty, with one or two dodgy-looking characters drinking in the bar, but at least the water was hot. However, all was not lost as the supper was a full chicken curry with rice and chips, which evoked memories of top suppers in the past at Downpatrick or Ballyearl. We were attended to by Bernie the Barman, who seems to know Duncan well, and who did not mince his (expletive-filled) words in his opinion of our squash or anything else. Further bad news for Rosario was that the bar shut at 11:00 pm, which is obviously a contrast to the previous arrangement at the Royal, were opening hours were (allegedly) treated in a more relaxed fashion, and as we were all bundled out shortly after 11 the opposition were considering other options for extending the evening's liquid intake.
Greg O'Rawe