Windsor SuperSet Number 9 Winner!
The ninth annual Superset 2013 Invitation tournament, featuring the top men players in Ulster,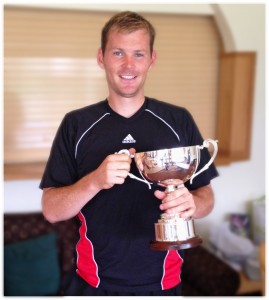 took place at Windsor Tennis Club Belfast on Saturday 22rd June. Despite the showery weather the event was a success with some high quality tennis in both the singles and Seniors doubles events.
Windsor's Przemek Stec made it through to the final and faced rival Nelson Boyle again, and it was a very close match with great tennis as it went to a tie-break set. Nelson denied Przemek a fifth title on his fourth match point to take his fourth title himself.
Simon Guist from Windsor Tennis Club Belfast also performed well in the singles, and there was a good club representation in the Seniors doubles with David Williams & Gordon Addy, Greg O'Rawe & Pat McFerran, and Tony Payne and Robin Ashe all giving a good account of themselves.
Many thanks to Wendy, Rebecca and John for all their hard work providing an excellent afternoon tea for those present, and also to the kind support of our sponsors, including Belfast City Council and Alexander Boyd Displays.
Photos of the players and the great day are on our Flickr site