On Sunday 11th February, Simon will be travelling to India  for seven  days. During this time, Simon will be running a coaching course, instructing Indian tennis coaches in Dehli, on how to teach blind tennis to Indian adults and children. On the final day of the trip, Simon will observe, while the newly trained coaches, take lessons in two special primary schools for blind children. I feel, as members of Windsor, we would wish to support 'our coach' in this very worthwhile project.
American Mixed Doubles Tournament
Saturday 3rd February 2:00pm 
Afternoon tea served from 3.30pm.
Prizes, spot prizes, good tennis and lots of fun!!!
Come and play and make a donation to the cause – the price of tea and a bun!
If you can't  come and play, come for afternoon tea.
If you can't come at all, please consider making a small donation…
(by leaving an envelope with reception, marked 'Simon India').
Thank you in anticipation for your generosity and looking forward to seeing you on Saturday 3rd!
Madeleine Gilmore (Tennis Captain)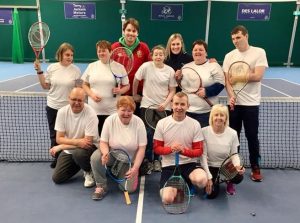 Simon pictured with Ulster VI Tennis Team who won their first ever tournament in Shankill Tennis Centre, Dublin.
"I will be going to India from the 11-18th February to train the Indian tennis coaches in the fastest growing disability sport in the world that is Blind Tennis. I will be going to Delhi, more precisely, the Delhi Lawn Tennis Association to train the coaches there how to teach Blind Tennis to Indian adults and children. Of the 37 million people across the globe who are blind, over 15 million are from India. What's worse, 75% of these are cases of avoidable blindness, thanks to the country's acute shortage of optometrists and donated eyes for the treatment of corneal blindness. Research has shown that India will have 2 million blind children by the year 2020. My first few days will be training the coaches about the sport of Blind Tennis. Visually impaired tennis is one of the faster growing VI sports in the UK with more and more opportunities for people who are blind or partially sighted to get involved. Players are classified according to their visual ability, ranging from B1 (totally blind) to B5. The visually impaired version of tennis is similar to mainstream tennis with only a few adaptations. The ball is larger than a regular tennis ball and with ball bearings in the center which make a sound as the ball bounces on the ground. The game can be played on a smaller court using shorter rackets with more bounces depending on your level of sight.
On my final day with the coaches, some classes from two primary schools that are made up of entirely blind children will be attending and the newly trained coaches will take them for a lesson. The idea is that, going forward, the newly qualified coaches will do this every week for the Blind schools in Delhi and the sport should grow from there. At the moment, there are no registered Blind Tennis Groups in the whole of India."
Simon McFarland