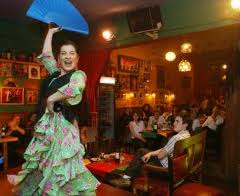 Lavish evening gowns and glittering jewelry is on display at the Saturday evening gala dinner at Lew Hoad´s end of tournament bash. And the women dress up as well!
The setting is magical with white linen tablecloths covering tables set out round the glistening blue swimming pool. Every nationality is represented and we join a table organised by the incredible Walter. Walter has visited every country in the world, his last visit being to Bhutan where is costs 300 dollars per day just to be in the country!
The food takes second place to the fun and camaraderie amongst the players now relaxing after the tension of the tournament. The presentation of prizes lasts almost as long as the votes being cast in the Eurovision song contest. And of course photographs with cameras pointing from all directions.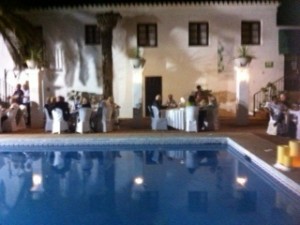 And then the dancing! Just as in tennis each person has their own personal style and no one style dominates. Fortunately no one ends up in the pool. But a really enjoyable evening with goodbyes to all the players – except of course those going to the next tournament at Don Carlos Hotel.
Next day disappointment for Scotland who lose a nailbiter to the Pumas in World Cup Rugby. Now their only chance is to beat England next week – a tough ask!
Accompanied by a friend from Scotland we pop down to see the draw for the Don Carlos event. Shock and horror I am drawn to play David Lloyd of GB! Can it be the David Lloyd? Would he be possible he is playing now?
Back at Miraflores I have another hit with Fernando who boosts my confidence by telling me how much I have improved in just two weeks! What a charmer! I tell him he had a blank canvas to work with!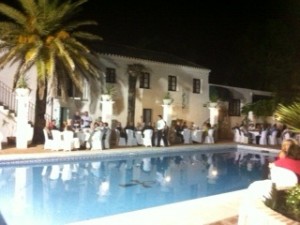 On Monday I head to Don Carlos whilst Carole is off to play golf in an invitation Society outing. So I am left to my own devices except for Walter who faithfully supports me. I look for David Lloyd and to my relief it is not THE David LLoyd but another person from Poole in Dorset.
First set I plod on to win 6/1 but lose my way in the second. Nevertheless I struggle to a straight sets win after 2 hours 45 minutes in punishing sun.
Tomorrow I play a seed from Norway so a very tough assignment awaits.
Meanwhile Carole arives back from the golf having scooped first prize with 38 stableford points! So off for evening meal and a small celebration in Fuengerola.
Hasta luego mes amigos!
WillieAndCarole