Nortel Bottom of the League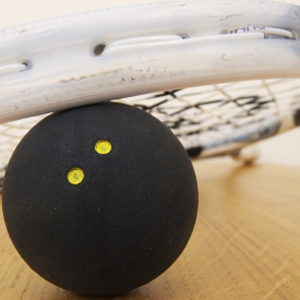 .. so a convincing win was called for by Windsor Squash Club Belfast.
Andy v Maurice McAteer
With a number of players unavailable this week our main squash man from Windsor Andy kindly agreed to play Da at 5:00 to get away for his visit to Mrs Brown and her boys. However although there were no witnesses to the match, reports were that things did not go smoothly with Andy under pressure to get out of work early and then get away as well.  In addition, the heating was not on as had been requested which did not help. The scores showed a tight five setter which went the way of Maurice from Nortel, but full marks for Andy for turning out when originally not available.
Stephen v William Walker
A 9-0 romp in the first game promised a quick win for Stephen, but William fought back in the second and should have won it. After escaping from this 10-8, Stephen kept ahead and survived another close game in the third 9-7 for a 3-0 victory. Good performance.
Jonathan v Aaron McElhone
Aaron was also looking to get away quickly and Jonathan made no effort to detain him unnecessarily. Although a willing runner, Aaron was outclassed in the finer points of the game, and Jonathan strolled to a very comfortable 3-0 win for the loss of a handful of points. Still unbeaten this season …
Me v Mark Lyttle
First time playing against Mark even though he has been around the scene a long time, and I was well aware of his tricky game. The court wasn't that warm even by the last match, and this didn't help my sluggish start. Some stern words of encouragement were dispensed and I upped the pace a bit to take the second. However it was all still a bit of a struggle and I had to work hard to win the third from 4-8 down. The fourth wasn't easy either but I managed to get over the line 3-1. Not one for the highlight video but a win is a win.
12-4 keeps us second but a bye next week will probably drop us down a bit.
Three pizzas for five remaining for supper seemed a good ratio to me. Jonathan surpassed himself by also providing apple tart AND mince pies as an early Christmas treat. Unfortunate for Andy to miss out on this spread but we thoughtfully took a photo of the tart (the apple one) and sent it to him to see what he was missing.