Lift Opening and Gotto Room Naming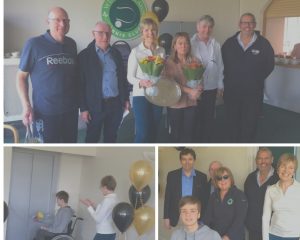 Saturday 24th March saw the official opening of the lift and disabled facilities at Windsor LTC.
This was the culmination of eighteen months of planning by the Disability Access Committee and fundraising by our members, bringing this massive project to fruition.
The afternoon commenced at 1pm, with Ross Gourley (the current British Schools wheelchair tennis champion) cutting the ribbon and officially declaring the lift 'open'. Valerie Addy (Chairperson of the Disability Access Committee) made a speech, welcoming everyone and thanking all those concerned. Valerie performed a very clever "rap", composed by Claire McIlwaine, outlining all the fundraising projects that had been under taken along the way! The corks popped and the lift was toasted with prosecco!
The American tournament which followed, involved members of Windsor's blind and partially sighted tennis group playing alongside wheelchair tennis players and our own team members and social players. The sun shone and great tennis was enjoyed by all. Congratulations to our winners Breege and Luke.
Later in the afternoon, Simon, our director of tennis, gave a talk on Visually Impaired tennis, Windsor's VI programme and his recent trip to India, where he coached Indian tennis coaches on how to teach tennis to the blind and visually impaired.
Ken Reid (President of Windsor LTC), made a speech honouring the Gotto family, outlining their history with our club over three generations, reminiscing over the achievements of Vivian Gotto, former captain of the Irish Davis cup team, having played at Wimbledon five times! Ken presented to the club a signed, framed squash shirt commemorating David Gotto's many Irish caps for squash. Our function room is to be named the Gotto room and David Gotto was presented with the brass plaque which is to hang proudly above the entrance door. David made an inspiring speech in response.
Dermot McCann, chairman of council, made an eloquent speech, outlining the work done by the disability access committee, the fund raising projects undertaken by our members, and thanking all those involved. Dermot announced that the Arthur Norris award for outstanding service to our club, was to be awarded to the disability access committee, and Valerie Addy accepted the award – presented by Clifford Carroll (President of Tennis Ireland).
Pimms cocktails were followed by a delightful afternoon tea – courtesy of our lady members.
This was indeed a great day in our club's proud history!
Madeleine Gilmore
Tennis Captain