King Arthur – a Legend.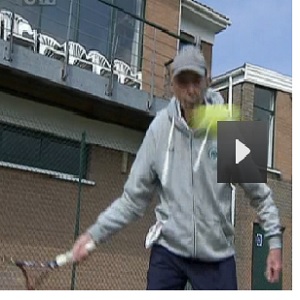 King Arthur – not a fictional hero of British Isles folklore but Windsor's very own Arthur. The King of  many years ago wielded a mighty sword at the Battle of Mount Badon while our modern day hero wields a mighty racket on the courts of Windsor Tennis Club Belfast. Ulster Television eventually tracked Arthur down and using Merlins sorcery and perfidery you can see how our club's King Arthur dealt with the TV cameras.
Our 'King' has gained a certain notoriety at Windsor – The Lord Mayor of Belfast visited the Club on Tuesday 20th November to present a Lifetime Achievement Award for his contribution to Sport.
The Beeb were there and you can see their I-player  clip here – or click the pic. Probably will only be there for 30 days or so.
FANTASTIC to be still playing tennis at 98!
Click the pic to see the  Ulster Television interview!!
Summary
Article Name
Description
King Arthur - member of Windsor Tennis Club, oldest tennis player in Ireland, interviewed by BBC television.
Author