Karola – Day 1
Karola on court at around 12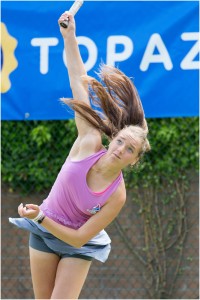 Quick one here – Karola Bejenaru starts her first match at around 12 o'clock this morning at Windsor Tennis Club Belfast. There are 3 matches in front of her, so it's only approximate timings. If you're about this morning why not pop down and give her a bit of support? Should see some cracking tennis too!
Full ITF schedule and draw are to be found by clicking here http://www.windsortennis.co.uk/itf/.
More about Karola can be found on this Belfast Telegraph article, where Windsors resident High-Performance Tennis Coach gives his opinion on Karola's progress. "I think Karola is showing every young player in Northern Ireland that they can dare to dream to become a top junior and even a professional tennis player," said Stec.
Karola enters the Belfast event as the number one seed as she has reached three successive ITF finals, most recently winning at Donnybrook.
And her recent form, according to Windsor's High Performance Coach Przemek, is evidence of  the hard work that she has put in over the past twelve months, and how she has become comfortable at this level of competition.