Karola at Wimbledon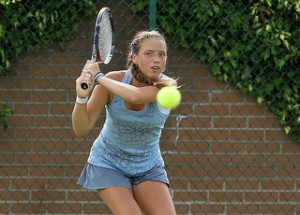 Well done to Windsor's Karola Bejenaru, who achieved her goal of playing at Junior Wimbledon as she made it into the qualifying draw of the Girls Singles. The draw wasn't particulary kind to the Belfast girl as she met the number 3 seed in qualifying, Dalma Galfi from Hungary, but it was a good performance from Karola as she won a set against the much higher ranked opponent.
Karola played well against Galfi getting to set point in the first and taking the second pretty well, but she wasn't able to build on her strong second set, and lost the third, much to her disappointment. However, she is happy that she can learn from the experience and that she can return to London next year and make the main draw without having to qualify. Karola met her coach Przemeks expectations of reaching Wimbledon in 2014.
The teenager only found out that she had made the qualifiers this year at the 11th hour, having started the week as fifth on the list of alternates (reserves).
Interestingly, Karola becomes the first Ulster player to compete at Junior Wimbledon since Louise Tuff in the 1970s but her first reaction after yesterday's defeat was one of bitter disappointment. Good luck to her as she continues her international tournament schedule in the coming months!
Summary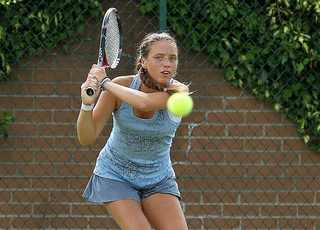 Article Name
Karola at Junior Wimbledon 2014
Description
Windsor Girl Karola at Wimbledon - meets higher ranked opponent and performs well, but looses in the third set. First Belfast and Ulster girl since Louise Tuff in the 1970s to reach Wimbledon.
Author