Windsor Junior Summer Camps 2016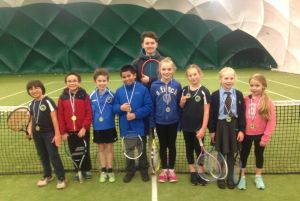 Looking for structured Tennis-based activities for your child?
We provide Tennis sessions delivered by our Clubmark qualified coaches in a friendly and welcoming atmosphere.
The morning sessions will involve demonstrations followed by a warm-up and then drills aimed at improving technique and  consistency. The afternoon sessions will concentrate more on competitive play, tactics. Both sessions are suitable for 4 – 18 years old,  and classes are segmented by age.
 Tennis Summer Camp
Warm-up – Football, netball, hockey, team tennis etc.
Drills Aimed to improve technique-forehand, backhand, volley, smash, etc
Competitive play, games and a lot of fun (King of the court etc.)
Match play practice (singles, doubles)
Dates:
Wk 1. 4th July to 8th July
Wk 2. 1st August to 5th August
Wk 3. 8th to 12th August
Wk 4. 15th to 19th August
Cost:
Half Day (Week) £50 Members – £70 Non member
Full Day (Week) £90 Members – £110 Non members
Times:
Half Day 10.00am – 12.45pm Mornings
Half Day 1.30pm – 4.00pm Afternoon
Full Day 10.00am – 4.00pm
Download the Summer Camps 2016 application form by clicking the logo to the left.
Contact:
Simon McFarland  02890 665188