Don Carlos Hotel – WillieAndCarole slumming it – NOT!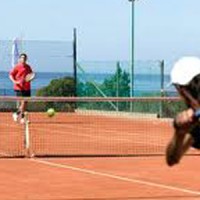 The 5* magnificent magnificent Don Carlos Hotel 15 kilometres from Marbella hosts a Veterans Grade 4 ITF tournament every March. This year the weather has been unkind for the tennis event and nothing has gone to schedule. Nonetheless finals day has arrived but again the heavens have opened and its anybody's guess as to whether finals will be possible.
Carole is in a round robin ladies singles and has one match to play for runners up spot. I lost my singles but have made it through to the mens dubs final playing with my partner Peter who hails from Zimbabwe. At the moment it is cafe con leche, chatting and waiting for a chink of sun in the rain clouds! Just like home! Can't beat the Belfast weather!
One of the unfortunate consequences of the economic hard times here is the rise in theft. If it isn't nailed down someone will lift it! A GB player arrived and left his case complete with tennis racquets, clothes, passport, credit cards, flat keys etc on the front seat of his hired car outside the splendid Don Carlos hotel. On return 5 minutes later the car lock had been forced and it was gone!
The shock and inconvenience of having to deal with the fall out from this is collosall. Not to mention the expense. Lots of insurance policies do not admit liability if you are deemed to have taken insufficient care of your belongings, as apparently was the case in this instance. Just awful!
So the maxim is- leave nothing in the car, do not accept help from strangers, give a wide berth to anyone who approaches you saying "Excuse me do you speak English?".  Or anyone who with a smiling face who presents you with a pretty flower! Be assured it will be a scam if some sort designed to relieve you of your worldly goods.
Sorry to sound so harsh but these precautions are necessary as I have seen and heard so many dreadful instances of muggings. The protagonists have it down to an art form!
On the tennis front the Irish are holding their end up as in the 35s singles Ronan Callaghan who hails from Cork but now living in Marbella is in the final. He played junior interprovincial for Munster and played against Eric Cameron (now at Larne) and Patrick Palmer at under 14 level all those years ago. A very accomplished clay court player.
I hear my name called by the referee! Surely it is not officially dry!
Looking forward to getting back to the club and seeing everyone at Windsor!
Hasta luego!
Sent from my iPhone
WillieAndCarole