Club tournie update – Paul Gibson photo!
Club Tournie update and it's only Wednesday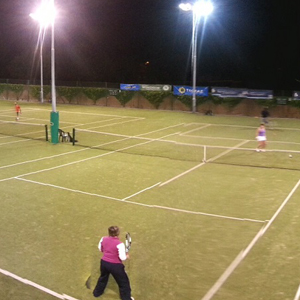 Club tournie update paul gibson photo! Rather magnificent photo taken  from the Balcony – it's now on our Windsor Flickr site so just click the link to see it in all it's Magnificent Wideness.
Helpfuly the Flickr set is called "Windsor Tennis Club tournie 2013".
If you have any photos, large/small, selfies whatever just send to racqueteditor@windsortennis.co.uk for yer chance of glory!
Don't forget to like this on our Facebook page!
The overall order of play seems to be going amazingly well with Barry Ludlow and Andrew Cunning starting tonights matches at 18:00 in the Mens singles.
Hannah McFerran and Melanie Harrison start their Ladies singles at 20:30 while sisters Florence Irvine and Madeleine Gilmore face each other across the net in the Ladies Doubles at 21:30.
So, come on down and give yer mates a cheer!
As its Wendy Phillip's final week, she will be in the Club on Thursday evening if anyone would like to wish her a bon voyage to her new job, based in Belfast, still in the sports and leisure sector.