Temporary Christmas opening hours the Christmas Week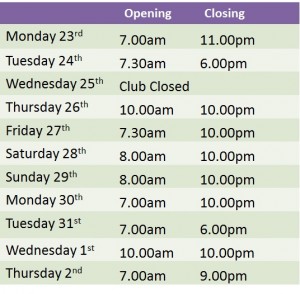 Christmas opening hours 2013
The table on the left shows the Christmas opening hours 2013 from Monday 23 December to Thursday 2nd January. Normal opening hours will resume on Friday 3rd January 2014. This is in line with most other small clubs and businesses in Belfast.
You will need your Windsor Swipecard to gain access to the Club over the Christmas period.
(A Windsor Swipecard was introduced a couple of months ago and is used to read the members card at the rising barrier to the club car park, the entrance gate and sign in at reception.  The Council has decided to keep the barrier at the entrance to the club lowered permanently, and also the green entrance gate during the winter months.)
Ten pounds is already on your card (your swipecard acts like a debit card as well)  to use against any purchase you make in the club.) You can read more on the Windsor Tennis Club Swipe card by clicking the link.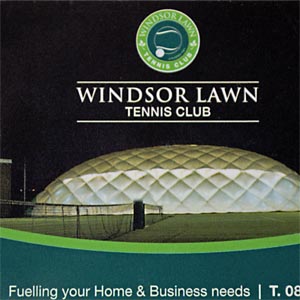 If you have not already collected your card (and at this point in time there are approximately 9% of members who have not collected theirs yet – you NEED to collect your cards in person, there is no alternative) please ask at Reception.
You can ring 028 9066 5188 or email reception@windsortennis.co.uk
Please note: ALL Members will need their Swipecard to access the club over the Christmas week as there will be no-one on reception.
Oh, one last thing seeing as how it's Christmas, for the new recruits to our table tennis programme – have a look at this Youtube clip of how NOT to celebrate winning a point – click the pic – HILIARIOUS!!
Merry Xmas