Bridge Beginner Class in the New Year.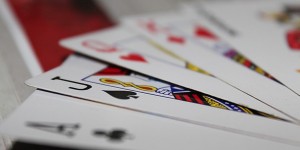 If it has been one of your previous (failed!) New Year's Resolutions to learn how to play bridge then 2014 could be the year for you to start. From January 2014 we are organising a bridge class for beginners at Windsor Tennis Club Belfast, as several members have suggested that the upstairs function room would be ideal.
Bridge Class Times.
The classes are expected to last for 12 weeks and will be organised by one of our own  members David Clement who has considerable experience in teaching bridge. The class will take place in the upstairs bar area between 7:45 and 9:45 on Monday evenings. The first class will begin on Monday 13 January. Demand is expected to be high so get your new 2014 calendar ready! Make the Windsor Bridge classes your first entry. In fact, why not buy someone a set of classes as a Christmas present!
While the course is aimed primarily at beginners those who have some experience of playing  bridge are also very welcome. There is no need for you to bring along a bridge partner in order to join the class, but if if you want to bring a friend then non-members are also more than welcome.
The fee for the 12 week course is £30 per head and David has indicated that the receipts will go to charity including a contribution to the club defibrillator fund.
For the class to be viable we need a minimum of 16 participants. Could you therefore let me know asap if you wish to join the class. Replies to dermot.maccann@ntlworld.com as soon as possible
Dermot MacCann