Ballroom comes to Windsor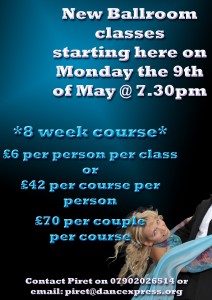 Ballroom beginners and intermediate classes starting in Windsor Tennis Club Belfast, Windsor Avenue, Belfast on Monday the 9th of May at 7.30pm.
1 hour class for anyone who wants to learn to dance or improve or brush up on their existing dancing skills. Classes are catering for all levels and will cover Slow Waltz, Foxtrot and Quickstep.
It is an 8 week course and will improve everyones dancing skills or start them off to learning the beautiful art of Ballroom dancing.
No partner required but you do get discount when you drag your partner along!
£42 per person per course or £70 per couple, alternatively you can pay as you go £6 per class per person.
See you all on the dance floor!!
Many thanks
Piret
mobile: 07902 026 514
email: piret@dancexpress.org