Sun Shines for American Tournament on 1 June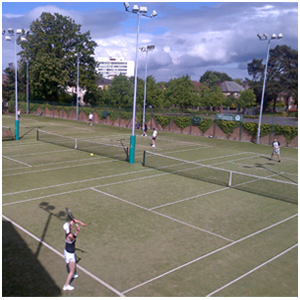 Last Saturday afternoon we held our first American Tournament of the year, at Windsor Tennis Club Belfast.
With the rain falling steadily all over Belfast at 1:00pm it looked as though the weather was against us but by the start of the tournament the rain had stopped and soon the sun shone to give a glorious afternoon's tennis.
There was a great turnout and all participants were able to get in four rounds of tennis before afternoon tea. This was an impressive spread of savouries, scones and cakes and thank-you for all those who generously brought food and Barbara Redmond for organising it.
Pimms (Rosamund's special recipe!) was also available and much appreciated. The afternoon's winner was Lee Irvine with Cathy the close runner up and the afternoon finished with prizes presented to both.
Photos are available on our Flickr page!
The next American Tournament is planned for 3 August.
Also for your diaries please note that there will be a Club Evening Tournament on Thursday 4 July with fish and chips also on the menu.
Dermot MacCann
Tennis Captain