Windsor Match Maker – Worried about getting a game??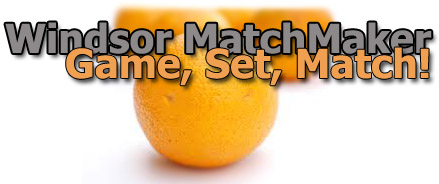 New to Windsor this year is our Windsor MatchMaker – an online system which will assist you in locating other tennis players within Windsor who match your skill level, your preference for singles or doubles, your desired playing time.
It's very easy to find a playing partner with Windsor Match Maker, whether you are new to the club and are maybe a bit nervous about finding people to play with, or you get  a late phone call on a Tuesday evening from Richard, and he's terribly sorry, but he's 'got a hot date tomorrow night and would you possibly mind if…?'
Windsor MatchMaker – what next?
Just click on the pic to get over to Windsor Match Maker now, it's a totally automated system, you will be up and running in two minutes.
If you have any questions please feel free to call reception 028 9066 5188 or drop them a line.