Willie & Carole in international Vets tournament
For those of you who don't know, Willie & Carole spent a memorable few weeks last year playing tennis on the international circuit and Willie wrote regular blogs and sent photos of their exploits. Not content with gaining world ranking points they have just returned to Belfast from Umag (where? click here for more info) where they competed in an international Vets competition. Read on to see how Willie & Carole fared!!
Ireland v Bolivia
The no 1 player for Bolivia had been on the tennis circuit and played in all the Majors v Nastase, connors etc.
A real artist with his strokes and try as we might he dominated play beating us 6/3 7/5.
All the way to Croatia and you'll NEVER guess who we bumped into….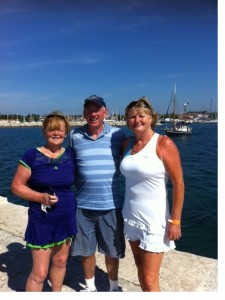 Carole with George and Letty Lucas of Downshire Tennis Club Hillsboro at Umag harbour.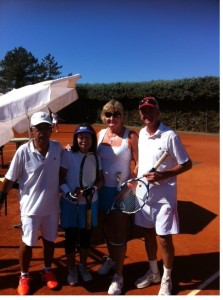 Our 1st round mxt match was against the Japanese who came complete with video camera on tripods! I felt quite confident we would win comfortably and so it proved in 1st set.  But in 2nd set their googly underarm serves caused us devastation and we succumbed to a loss in the ordinary tie break.
Then a nervous and tense Championship tie break ensued and we were fortunate to edge home 10/8.
I am told that an international incident occurred involving a Russian lady and a Japanese lady. After exchanging pleasantries the Russian lady raced off with the handbag of the Japanese lady. The Croatian police arrived and both ladies were taken away for interrogation! Interpreters are still being sought!
My conqueror in singles – Daniel from France has knocked out a seed from Australia so I am feeling quite chuffed about that!
Last night there was a champagne reception after the opening ceremony. ( Click here and here to go to the Windsor YouTube Channel – keep an eye out around the 10 second mark , as Willie's camera goes a-wandering…)
My doubles partner Peter Gutmann from Austria managed to find me and we are playing on Tuesday.
He is a lot better than me so I will have to step up to the mark.
This is a beautiful place on the Adriatic coast and we have been cycling into Umag every day. It is an ancient Roman town with amazing
architectural features. And of course a 5 star casino hotel!
Til the next time.
Willie & Carole