Volker the Bionic Man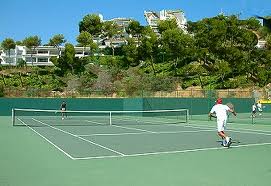 "You will play doubles today Willie, with Volker from Hamburg. You do all the running as he has some knee problems".
These were my instructions from Fernando Gill, owner and head coach of the
Miraflores club near Calahonda. Volker and I were to play Rudolpho from
Argentina and Carmen a very good Spanish over 50 International player, steady as a rock.
Two tough sets ensued but we just lost out to some amazing shots from Rudolpho. Volker had great hands at the net but my running was insufficient to compensate for lack of mobility. Nevertheless two nice sets.
Afterwards we join Fernando and the others at the table for drinks.
Volker apiologises for his lack of mobility and removes his three quarter track suit tio reveal that he wears an elaborate caliper on each leg complete with straps and bandaging.
"I will not be able to play now for 4 days but it is still my joy to play tennis" he said.
Volker is a business man who travels the world and likes to fly Arab Emirates in the most luxurious style. An all frills airline wherre
nothing is too big an imposition for the customers.
Meanwhile Carole has been on court with Peter from Liverpool. Peter likes tennis a lot but makes sure his social life is unimpeded by the game! He declares he is single and asks for a female volunteer to go with him on an all expenses paid Christmas New Year cruise round the Med! Sadly no takers on this occasion. An Everton fan through and through, he wants a big take over at the club to make Everton a glory club again. Some chance I say!
Carole has teamed up with Frances from Seattle and they have arranged to play in the tournament next week.
Adios for now,
WilleandCarole