Windsor Club Tournament 2013
Club Tournament  8 – 14 September.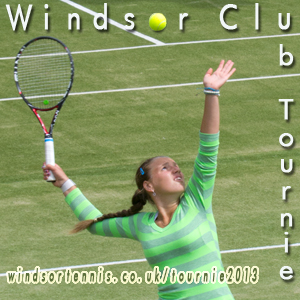 Register online now for the  Club Tournament at Windsor Tennis Club Belfast! This year it begins on Sunday 8th September with the finals on the afternoon of Saturday 14th September. Places filling up fast!

The tournament is open to all members aged 16 and over. It is open to players of all levels and ages ; beginners and novices are particularly welcome. As usual, there will be five types of event-men's and ladies' singles; men's and ladies' doubles and mixed doubles. The events will grouped to according to ability.
There will also be a Junior Tournament with three events – boys under 14 and 18 and girls under 18.
This year the balcony and bar area will be accessible throughout the tournament and the Tennis Committee hopes that people will come down to support the players. A possible incentive for some may be a planned 'happy hour'  😆 in the bar each evening between 8:00 and 9:00!
The entry fee remains the same as last year-£5 for one event and £10 for two/three events.
Entries are to be in by Wednesday 4 September.
Entry forms are available from Reception but REGISTRATION is online by following this link Windsor  Tennis Club Belfast Tournie 2013 registration
If you have any questions please feel free to contact Windsor Reception and your enquiry will be passed to a member of the Tennis Committee.