tennis, great facilities, friendly people!
Windsor Tennis Club Belfast has the best up-to-date facilities in Ireland (5 new courts in 2013), with friendly members enjoying social tennis as well as competing in the various inter-club Ulster Leagues. We offer 2 indoor tennis courts with our state-of-the-art Super Dome
Worried about getting a game?? Unique to Windsor  is our 


MatchMaker – an online system which will assist you in locating other tennis players within Windsor who match your skill level, your preference for singles or doubles, your desired playing time. It's very easy to find a playing partner!
We also run very successful Club afternoons and evenings, with separate sessions for Seniors and Juniors – further details can be found by clicking here.
Court booking couldn't be easier! Windsor introduced an online court booker 2 years ago and it's been very popular with the members.
Getting an engaged tone is a thing of the past! Make a booking wherever you have an internet connection, 24 hours a day, you can even use your mobile phone to book your court!
Windsor Tennis Club Belfast has always attracted top-class players, with many of them representing Ulster and Ireland at various levels. On a local level, the Windsor A team regularly vies for top spot (winners in 2010) in the Northern Ireland Belfast and Dsitrict League, while lower down we like to enjoy it a bit more but still like a good game! Here you will find the various leagues that Windsor enter teams into every year, enough to satisfy anyone's passion!
Coaching
Windsor have three excellent coaches, Simon, Przemek and Michael, who look after the Juniors and Seniors tennis development programmes, and are also available for private coaching.  If you fancy reading some bits on how to play better tennis, head over to our Top Tennis Tips page!
Racquet re-stringing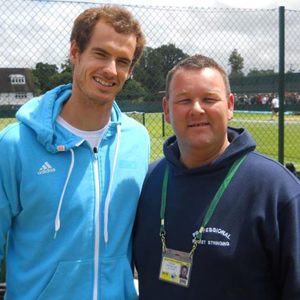 Additionally, Roger Henry now offers an in-house stringing service and further details of the services and advice that Roger offers can be found by clicking here.
Anyone for tennis? Or squash? Or just getting in better shape? Set in the leafy suburbs of south Belfast, Windsor Tennis Club has attractive membership rates and we'd love to see you! The friendliest tennis club in Belfast!