Junior ITF 2013 Photos
Karola wins on Home turf. Story and Pics.
(original article by David Kelly, Belfast Telegraph, 3 August 2013)
By David Kelly – 03 August 2013
This was how it was supposed to end.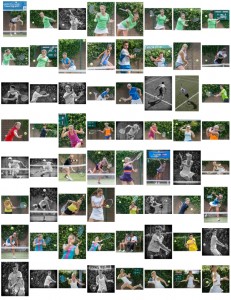 Click on the Contact sheet (left) to go to our Windsor Tennis Club  Belfast Flickr page for even more photos
In bright sunshine before a packed balcony and clubhouse at Windsor Tennis Club Belfast, Karola Bejenaru raised her fist to celebrate victory in the first International Tennis Federation to come to Northern Ireland.
During a week in which the club played host to many aspiring young players from across the globe, the spotlight was never off the 16-year-old and she suffered wobbles during matches when it seemed the expectation was becoming hard to handle. But yesterday, against Dubliner Lauren Deegan, the Belfast largely remained calm to run out a 6-2 6-4 winner in this grade 5 event.
Bejenaru, who also won the doubles with Caroline Lynch, said: "It was great to win it. I thought I played okay. She played really good, she was hitting the ball very well. She was trying to put me under pressure and she did in the second set.
"It's really special to win this title here because of all the support that I had today – it's more special than the other two wins last month. I think winning the semi-final the way I did against the Italian helped me a lot because it gave me a lot of confidence – it was my best performance."
The east Belfast teenager had the perfect start when she broke Deegan twice for a 3-0 lead. But then the 15-year-old Dubliner – in her first final – started to loosen up and a couple of forehand winners helped to break Romanian-born Bejenaru.
But any suggestion of a swing in momentum was quickly snuffed out as Bejenaru broke Deegan with a flashing backhand winner down the line before holding to love. Credit to Deegan as she finally managed to hold to force Bejenaru to serve for the set, which she clinched with a stunning forehand cross court winner.
Deegan, looking a little more relaxed, held comfortably at the start of the second, as did Bejenaru who then forced two errors to break in the third. But any thoughts that Bejenaru would run away with the set were dispelled as the Dubliner came up with arguably her best game of the match.
Firing down a forehand return winner to go 30-15 ahead, she followed that up with another to get to break point and yet another forehand left Bejenaru only able to net her backhand.
But once more, just as the door seemed to be open, Bejenaru shut it right away, breaking in the fifth with some of her best returns of the match. Yet at 4-3 Deegan broke the local girl's serve once more with a backhand winner off Bejenaru's second serve.
However, that only fired up Bejenaru even more and she broke back immediately when Deegan double faulted and then clinched the title on her second match point with a blockbuster forehand winner.
Bejenaru's coach Przemek Stec said: "I thought it was a good match, Karola made a good start, she was nervous in the second set, you know when you're playing at home that brings an extra pressure so it's not easy.
"The other girl started the second set really well, she had nothing to lose and was striking the ball really hard, better than the first set, but I'm happy with the way Karola handled it and got the win. She handled the pressure the whole week even if she didn't play her best tennis at the start. This gives you hope that when she is feeling pressure and in danger that she can strike the ball well as if she was in practice.
"I always believed that Karola can be higher in the rankings than she was but she needed tournaments and her dad Leonard has listened to me, they have travelled a lot and spent a lot of money but it's paying off. She's winning tournaments.
"The bigger tests are coming now. I am going with her to Poland the week after next for a grade four event and then she will have a grade three and grade two and then in October she is going to Spain for three tournaments in a row which will be grade three and two so this will be a good step up.
"She has been in four straight ITF finals but there is much more to work on if we are to achieve our goal of competing at Wimbledon."
The all-British boys final proved to be a one-sided affair with number one seed Mason Recci defeating number two Ben Stride 6-2 6-0, while the Irish pair of Eoin McGovern and David Gardiner won the boys doubles, defeating British pair Shamael Chaudhry and Lucas Taylor 6-4 6-4.
Meanwhile, the Italian tournament referee Ugo Lopez was so impressed with the running of the event that he believes it should be upgraded.
"This has been a great event, I have been very impressed. I don't see why this cannot be a grade two or a grade one event. All the players have been impressed and it has gone so well," said Lopez.