Tension is rising as the start of the Lew Hoad Memorial tournament looms. But for the time being all interest centres World Cup rugby with Ireland very much the underdogs v the Aussies. Up early on Saturday morning for breakfast al fresco before settling down on the sunloungers for the big match. Will Sexton have his kicking boots on?
First half Ireland doing well so we leave and walk down to Miraflores tennis club and watch the second half with a Spanish commentary, surrounded by quizical Spaniards wondering what all the fuss is about as we go ballistic at the final stages with Ireland holding off the Aussie pressure and Tommy Bowe almost scoring a breakaway try at the end. And the final whistle blows and a fantastic victory for Ireland. Cheers all round and celebratory drinks. Well take the opportunity when it arises I say.
Then staright into mens doubles tennis. I play with Ashley Compton-Dando, a youngster at a mere 59. I know he is a class player though I have never played with him before. We win the toss and I am to serve. I get my best first serve in only for Helmut to slam a ferocious doublehanded backhand past Ashley down his tramlines. No worries says Ashley, thats a Holywood shot!
Sure enough we take the set 6/3 with Ashley revealing all the attributes on court which made him a competitor at Wimbledon in 1973.
Later over drinks I ask him about his time at Wimbledon.
"Well in 1973 I played a guy called Vitas Gerulaitis and had two match points to get into the first round proper. I served a double on the first one and on the second he slammed a winner past me. But he was a nice guy. In fact he was a favourite with the ladies. During the match the court was surrounded by a bevy of beautiful ladies some of whom were waving various items of underclothing every time Vitas hit a winner. I don´t know why!"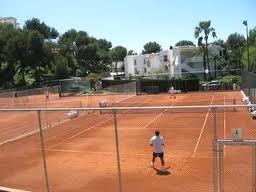 Here on the clay courts there is a rule that no matter how tired you are, at the end of  playing you must drag a mat across the court and then brush all the lines. It can be a bit of a drag but  failure to do this is an absolute no no.
Off we go to Lew´s club to check on the draw and order of play for the tournament. I see I am drawn against that well known trade union leader of the 70s – Frank Cousins! If there is a dispute over a call there will have to be an official ballot to decide on the outcome! Anyway I am told Frank is from GB and is very good. I am scheduled to play him on Monday.
At Lews it is great reunion as players arrive and acquaintances are renewed. Carole and I have a hit with Bob Wheeler of England and Frances from Seattle befoe joining Alastair and Vivienne both from Scotland. Alastair is a real old sea dog having spent a lifetime in the merchant navy. His stories are so amazing they must be true!
We repair to a Thai restaurant near Mijas for a beautiful meal with Alastair and Vivienne. Alastair is 73 and is running out of peers to play against. His event will be a round robin. But he has a match at 11am Sunday so an early night is called for.
Sunday we walk down to Miraflores club for a "mix in" singles. My confidence is boosted by winning the teeshirt beating Torres – no not that Torres! – in the final. Tomorrow v Frank Cousins will be a lot tougher..
Carole is in her element here having found a kindred spirit in Hazel, a retired teacher and they are intent on practising Spanish. Peter from Liverpool arrives. Apparently he has been out clubbing and has met the love of his life!
At the risk of antagonising Masterblaster – Joke for the day –
If you are going to take up cross country running –
start with a small country!
So 3pm now and time for a quick snack and a drive up to Lew´s to see if my doubles partner Phil has arrived yet. Phil´s woman is a fashion fanatic who needs her shopping fix every day! Well Phil can afford it anyway.
Hasta luego – til the next time