Finals Day at Lew Hoad
Saturday morning dawns and we are up early to get ready for our veterans mixed doubles final agaianst two world top ten Germans – Jurgen and Heidi.
The rain on Friday has thrown the order of play considerably as Jeremy Woods who beat me has his final of the singles to play against Jurgen, who then is to play his mixed. The singles is set for 9am as Jurgen has to catch a flight to Hamburg at 2:30pm.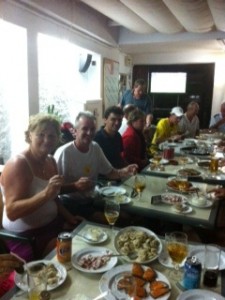 I watch the singles from my vantage point and what an intriguing match it is. Jeremy as usual makes very few mistakes and comfortably retrieves all the balls hit at him with increasing spin and force by Jurgen. The balls are spinning – topspin , slice, drop shots but still Jeremy gets them back. And Jurgen´s legs are weakening – he has calf muscle problems in both legs!
Finally Jeremy wins 6/4 6/4. Will he have time and the inclination to play us in his mixed final. We await news from Gonzalo the Referee and at last Jurgen approaches me to say he cannot play and is conceding the final. Well I will take a win whatever way it comes. We are winners of the Lew Hoad ITF plus 120 Mixed Doubles! We can hardly believe it! (Neither will they back at Windsor in Belfast!)
Back at Miraflores tennis club, Fernando the Head coach congratulates us. "Carole you did well but Willie you were hopeless. Next time do not leave Carole with so much to do!".
The Gala evening is tonight at 8pm with presentation of prizes. Fernado is calling me so I must go.
Hasta Luego