Ritualistic Belly Dancing at Windsor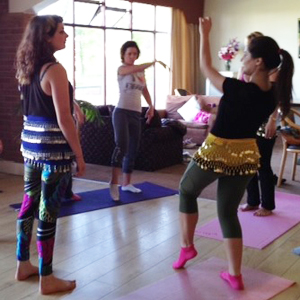 NEW TERM 2013
Ritualistic Belly Dancing is an integration of the Traditional Belly Dance with Stretching and Workouts. It aims to promote better self-esteem, and a state of calm and clear mind.
It helps to improve coordination, focus and balance raising Body Awareness.
And it helps to lose weight and to be fit!
Now available to you at Windsor Tennis Club Belfast!
Benefits:
* Belly Dancing can help relieve PMS
* Improved circulation
* Improved suppleness
* Increased joint flexibility
* Deeper breathing, better oxygenation of blood
* Relaxing and calming, reduces stress
* Possible aerobic exercise workout – burns fat, raises metabolism and improves resting heart rate
* Tones all major muscle groups – legs, thighs, calves, gluteal, abdominals, upper arms, back
* Reduces cellulite
* Eases PMT symptoms
* Prepares major muscle groups for pregnant women to assist the birthing process
* Boosts self-esteem in a gentle yet powerful way (Women with low self-image begin to honour their bodies)
* Assists the focus required to learn new movements
* Is a relaxing way to stimulate the blood flow
Hip scarves available from the teacher for £10
Please come with comfortable clothes, barefoot or with socks and its important to bring a Yoga or Pilates mat for floor work!
EVERY TUESDAY

Beginners class – 6pm – 7pm
Improvers class – Join the beginners class at 6.30 – 7.30pm
Prices still the same – £20 monthly payment or £7 drop in classes!
For Further info: Sara 0776 0838 468
Email: saralakesilence@gmail.com
Fee: £20 per 4 week or £7 drop in class