Windsor hosts European Squash Championships
Belfast hosts the next stage of the European Junior Squash circuit in the guise of the Irish junior Open at Windsor Tennis Club Belfast & Belfast Boat Club and  from Friday 23rd to Sunday 25 the November. This is the second consecutive year Belfast has hosted the event which is supported by Belfast City Council, Hastings Hotels, Belfast Crystal, Windsor Tennis Club, Belfast Boat Club and the Belfast Telegraph.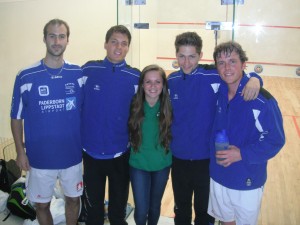 The competition has been granted 'Grand Prix' status earning more points for the competitors and raising the importance of the Tournament on the European Calendar.
A total of 130 players will compete in the Girls and Boys Under 13 15, 17 and 19 age groups. Players have been drawn from across mainland Europe including Spain and Norway as well as a large contingent traveling from Scotland.
Ulster have a strong entry with 2 Irish Internationals presently ranked in the Top Ten in Europe, Michael Craig (David Lloyds) ranked 8th in Europe playing in the Boys Under 17 category and Ellie McVeigh (Ballynafeigh) ranked 9th in Europe competing in Girls Under 13.
Other notable Ulster players and Irish Internationals playing are Thomas Abraham (Belfast Boat Club) and Connor McKee (Davis Lloyds) both playing in the Boys Under 17 category with Victoria White and Hanna Craig (David Lloyds) playing in the Girls Under 15 age group.
Emma McGugan presently ranked 2 in Ireland is also competing in the Girls Under 13 age group.
The matches will start at 3 pm on Friday 23rd at the Boat Club and 5pm at Windsor, all supporters and spectators will be warmly welcomed.